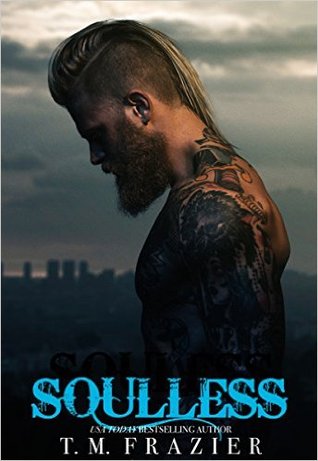 Soulless, is part two of Lawless.
The finale to Bear and Thia's epic love story.
Yep, a definite 5 star book. When reading Soulless you better be ready for one of the grittiest, hell bent biker books around. Bear went to prison to save Thia and he makes sure of Thia's safety by hiring one of the craziest bodyguards for her which was in the form of a psycho prom queen if you can believe that. I loved Rage and her craziness only fit in with everything else that has happened in this book. How does this unassuming cheerleader type know how to bomb a building or kill anyone she sets her mind to and come out of it totally unscathed?! You have to love this girl and wonder…what the hell!!
Bear and Thia went through so much but they did it loving each other with such devotion that it had you rooting for them the whole time. The trials that they were put through were beyond what most "normal" people could ever handle but when you're from the rough and tough world of bikers you could only hope that Bear and Thia have a real chance at true happiness because when these two do connect it is hotter than hell! Is Thia able to survive physically and mentally everything that is thrown at her and will Bear find a way out of his murder confession to get out of prison to take his dear old dad, the Prez, down and save Thia. Some of the surprises in here had me re-reading just to make sure I seen that it was right.
What can you say when you finish a book and it has you wanting for more because you feel so invested in these people? You just hope that Ms. Frazier can bring more of the Lawless MC because this just keeps getting better and better if that is at all possible.
This book was provided to me from The Book Enthusiast via TRSOR for an honest review.
T.M. Frazier resides in sunny Southwest Florida with her husband and baby girl.
In the third grade she wrote her very first story about a lost hamster. It earned rave reviews from both her teacher and her parents although her spelling could have (and could still) use some help.
It only took her twenty years to start the next book.
The Dark Light of Day was her debut novel.
King will be released June 15th 2015.
She LOVES talking books with her readers.