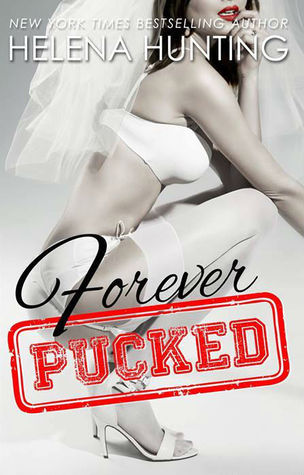 Being engaged to Alex Waters, team captain and the highest paid NHL player in the league, is awesome. How could it not be?
In addition to being an amazing hockey player, he's an incurable romantic with an XL heart, and an XXL hockey stick in his pants. And he knows how to use it. Incredibly, orgasmically well. Alex is the whole package and more. Literally. Like his package is insane. Total world record holder material.
So it makes complete sense that Violet Hall can't wait to nail him down to the matrimonial mattress and become Mrs. Violet Waters.
It's so romantic.
Violet is totally stoked to set a date.
Eventually. At some point. Likely before the next millennium. Or when Violet stops getting hives every time someone brings up the wedding, and their mothers stop colluding on stadium sized venues. Whichever comes first.
SHANNON'S 5 STAR REVIEW
The Beaver and the Super MC are back and they're getting married and I'm so pucking happy!
Forever Pucked is everything I could have hoped for, and so much more than I could have ever even imagined, in the continuation of Alex and Violet's unconventional and kooky love story. This book is full of laughter, silliness, and sexiness…all things we love about these 2 quirky characters. But it's also touching and tender, and we get to see sides of both Alex and Violet that we haven't before. Helena Hunting has really outdone herself.
This book is overflowing with the awesomeness of Violet and Alex, but we also get ample time with the other characters that we have grown to love over the the course of this series…Sunny and Buck, Lance, Randy and Lily, and it wouldn't be a wedding if we weren't treated to visits from the out of control mothers as well. The Pucked family is here in full force, and they all make for one heck of a good time.
Violet has got to be one of the most offbeat characters I have ever had the pleasure of reading. You never know what is going to come out of her mouth, and sometimes I don't think she knows either.
"Well, yeah, of course. The Super MC and my beave are soulmates, so logically that means the rest of our bodies are soulmates, too."
Alex is just as goofy as Violet, in his own unique way.
That I also refer to my dick as a person is probably something most people would suggest therapy for.
If ever there were 2 people meant to be together it's these 2. And I'm so happy we have front row seats to their happily ever after.
"Super MC deserves a wedding all his own. We'll have a private Super MC and beaver ceremony." I've thought about this a lot. I've even researched the costumes. Not that Alex needs to know this. A beaver only gets promised to her Super MC ones in a lifetime.
***Arc was received and reviewed for The Book Enthusiast.
Helena Hunting lives on the outskirts of Toronto with her incredibly tolerant family and two moderately intolerant cats. She's putting her degree in English Lit to good use by writing contemporary erotic romance. She is the author of Clipped Wings, her debut novel, and Inked Armor.