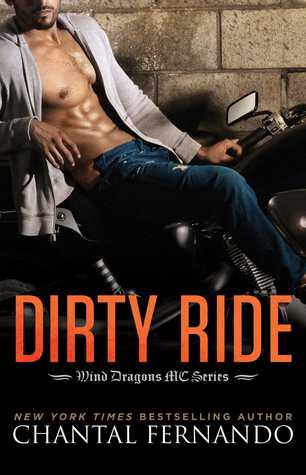 From USA TODAY bestselling author Chantal Fernando comes a brand new Wind Dragons Motorcycle Club e-novella, full of sexy bad-boy bikers, strong heroines, and steamy romance!
Even by Wind Dragon Motorcycle Club standards, Irish was always a bit of a dark horse. Not one to confide his secrets, such as where he got that mysterious scar across his neck, he's quick with his fists and even quicker to jump to the defense of his MC. But is he nimble enough to handle the woman he never saw coming? Or will she leave him with a matching scar across his heart?
Featuring scorching hot chemistry and plenty of sass, Dirty Ride is sure to rev your engine and get you immediately hooked!
We have one hot Irish biker from the notorious Wind Dragons MC who had a chance meeting at a bar with a new woman in town with the most beautiful long, curly read hair he had ever seen. Valentina is a woman who finally found that opening to run and hide again from her abusive husband. She had tried before so she could only hope that he wouldn't track her down this time and drag her back to him. This time she was going to run further in hopes that he would eventually give up looking for her and she would be able to build a better life for herself.
Valentina had a chance meeting at a bar with an incredibly hot looking guy who woke up something within her even if she didn't know it at the time. Ardan or Irish as his brother Wind Dragons knew him, also took to Valentina right away and was bound and determined to see this beautiful woman again. Things were looking up for Valentina she landed a job that she loved, met an incredible looking man who treated her just the opposite as her abusive husband did, plus she hadn't heard a thing from that monster since she had left. Maybe this time she did run far enough.
These two had an intense connection in bed and after being with Irish for a while she realized that "her Ardan" that she was falling for was still a badass biker who did things within his club that she had no clue of. There wasn't anything that Irish wouldn't do to protect his brothers or their old ladies. How many guys show up at your door a couple of days after being gone with a big stab wound in his chest? Ardan had kept Valentina away from the club life until he was sure where things were headed for them as a couple. None of this turned Valentina away from the man she was falling in love with. She knew that there was much more to this man besides the violence she now seen he was connected to because how would a man like Irish be whistling a Justin Bieber song? Lol
Everything was finally going good for Valentina and she figured she had gotten away from her monster of a husband until she received the text, "I found you". It was happening again. Her worst nightmare comes true. You have to read this and find out if her abuser was able to take on Irish and the Wind Dragons because he had something going for him that will shock you. Then if you think that knowing who he was and what he was the big shocker in the book, just wait for the ending! I would love to hear more on Irish and Valentina just from that ending alone. So you if want a quick hot biker read this is a must. Another must is to read about all of the Wind Dragons because their stories are some of the best biker ones I have read. I am hoping that Ms. Fernando has more coming from those bad boy bikers.
This book was provided as an ARC from NetGalley for an honest review.
New York Times, Amazon & USA Today Bestselling Author Chantal Fernando is twenty seven years old and lives in Western Australia.
Lover of all things romance, Chantal is the author of the best selling books Dragon's Lair, Maybe This Time and many more.
When not reading, writing or daydreaming she can be found enjoying life with her three sons and family.