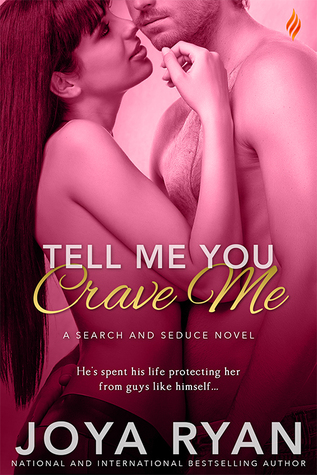 Easton Ambrose has spent half his life protecting Natalie St. Clair from guys like himself. It's not like he wants to interfere with her dating life, but what's he supposed to do when she insists on going out with the wrong kind of guy? Kiss her, of course. But now she's pissed. And what starts as an apology turns to heated words…then just to heat.
Jumping East was the worst idea in the history of ideas. The guy is Natalie's older brother's best friend, the definition of off limits. But she's tired of the safe guys who couldn't light a fire with a flamethrower. Time for a little dangerous—even if dangerous always blows up in your face. Because even if they survive their bedroom antics, it's only a matter of time before they're caught…
I just found a new series by Joya Ryan that I have to read more of. If the other books in Search and Rescue are anything like Tell Me You Crave Me I can't wait to get started. Easton Ambrose is a part of search and rescue and has had a tough life full of a lot of struggles dealing with his mother's drug use and overdose. East was lucky to be taken in by one of the town's prestigious families; the St. Claire's which his best friend Matt's family was. Natalie was the little sister to Matt and had to go through those rough teen years with the very gorgeous East watching every awkward step she took. As for the dating scene for Natalie, it wasn't pretty. She had a knack for picking the losers. As she grew older that did not change for her in the love department. Everyone in town was Natalie's friend but never anyone she felt any chemistry with. Natalie had always had a crush on Easton but Easton figured her to be "family" so he thought that anything with this feisty little thing was never going to happen.
East had rescued Natalie different times from the losers she would try to date and Natalie watched as East had an "open door" policy with every beautiful woman in town knowing that whatever happened would be for only one night. East did not do relationships especially when he was still having issues with the way his mother abandoned him for drugs. Natalie felt she never measured up to the expectations of her mother because she wasn't the self-confident debutante that was expected of her. She had bought her own business making cupcakes and living a life under the radar. That is until East planted that kiss on her. All hell broke loose from that moment on. She might have had a sassy mouth and feisty attitude but under all of that she finally felt alive and fulfilled with East. Every time they kissed or hooked up they knew they had to keep this a secret because who would understand this relationship of theirs; his best friend's little sister and the family that took him in. So every time they did hook up was going to be their last…so what is it they say about "good intentions"? Neither East nor Natalie could think of anyone else and nothing had every matched up to the feelings they had when they were together.
So what happens when Matt returns to town to get married and Easton is his best man and Natalie's mother is so distraught that Natalie has no boyfriend to escort her to the wedding? How do they keep their little secret now that they will both be thrown in the forefront of what others around them think to be "normal"? Easton with any and every girl available and little Natalie with no boyfriend in sight having to be hooked up with a cousin…not by blood…which her mother arranges for her at the wedding. Is East ready to give up his womanizing ways and will Natalie finally have the self-confidence she needs to put her mother in her place and not give a damn about what others think? Can they keep their hot little secret and will they finally give in and realize that they each have found the one person they can spend the rest of their lives with?
I have to say that Ms. Ryan takes your feelings for quite the ride because she gives you crazy heat with East and Natalie, making you mad at the mother that doesn't realize how she is affecting her daughter, and then she will make your heart break when Easton feels that he can't let Matt down and continue this with Natalie. I loved every minute of it and now I have to check out the rest of the Search and Rescue guys.
This book was provided as an ARC from NetGalley for an honest review.